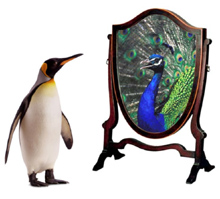 BJ Gallagher Hateley is available for keynote presentations at conferences and training seminars for organizations of all types. She also provides consulting services for improving organizational effectiveness in the areas of change management, improving innovation and creativity, customer service, teambuilding, race relations, and "glass ceiling" issues.

BJ Gallagher Hateley will custom-tailor her presentations and seminars to the needs and interests of any group, with topics including:
PEACOCKS AND PENGUINS: Taking a New Look at Diversity
BJ Gallagher Hateley has a unique approach to developing employees and building flexible, innovative organizations -- an approach that includes humor, creativity, and metaphor, combined with practical, common sense solutions to what may seem like "dilemmas of diversity." Her experience in her consulting work has helped her clients maximize the productivity of diverse employees, increase innovation and new ideas, enhance team effectiveness, and build customer loyalty. This lively, interactive session will provide participants with the opportunity to assess their own organization's management practices, and to explore ways to tap into the creativity of employee diversity and leverage it as an organizational asset.
THE BLAME GAME: Building a Culture of Personal Accountability in Your Organization
Widespread "victim" thinking, whining, finger-pointing, helplessness, and blaming are behaviors that plague many organizations today. Employees and management alike often seem caught up in a vicious cycle of "The Blame Game." This stimulating, interactive session addresses the personal and organizational costs of "victim" thinking and behavior, and demonstrates that the solution is a dynamic shift to personal accountability. Participants will learn how to help both individuals and organizations transform blaming into problem-solving, "victim" thinking into "ownership" thinking, and "poor me" into "personal accountability", resulting in empowered, proactive, productive people.
HOW TO MANAGE YOUR BOSS AND OTHER IMPORTANT PEOPLE IN YOUR LIFE
Most people don't realize that management is a two-way street -- the same techniques that we use to "manage down" can be used to "manage up." People are people, whether they are bosses or employees, co-workers, friends or family members -- the same principles apply to managing our relationships with them. This entertaining presentation will include specific tips on motivation, communication, influence skills, and how to get other people to do what you want -- both in your professional life and your personal life.
ADDITIONAL PRESENTATION TOPICS:
MAKING THE MOST OF CHANGE
TEACHING PENGUINS TO FLY: Cultivating Innovation and Creativity in Your Organization
SELLING TO DIVERSE CUSTOMERS
SERVING THE NEEDS OF DIVERSE CUSTOMERS
DOING MORE WITH LESS -- MEETING TODAY'S MANAGEMENT CHALLENGES
HOW TO BE A BETTER BOSS
MOTIVATION
MALE-FEMALE COMMUNICATION STYLES
IMAGE AND SELF PROJECTION FOR WOMEN
LEADERSHIP SKILLS FOR WOMEN
SEXUAL HARASSMENT -- WHAT IT IS, HOW TO PREVENT IT, HOW TO STOP IT